Welcome to LAWCHEK™/Lawsonline.com Listing Service
We provide legal resources and security ratings of legal professionals.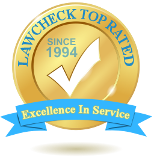 LAWCHEK™ has worked with Libraries since 1994 providing legal forms and directory services across the country. LAWCHEK™ expanded its legal directory service and developed an improved services.
If your legal organization needs assistance, we would be more than happy to advise you. Please call our toll-free number at (800) 529-5121.
LAWCHEK™
Security Award
5 Checkmarks
LAWCHEK™
Excellence In Service
4 Checkmarks