Welcome to LAWCHEK™ — We provide legal resources and security ratings of legal professionals.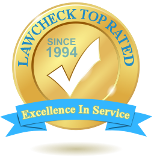 LAWCHEK™ has worked with Libraries since 1994 providing legal forms and directory services across the country. LAWCHEK™ expanded its legal directory service and developed an improved legal rating system. This ratings system is based on interviews with legal professionals and objective feedback on the technological advancements used in their day-to-day practice. Up until recently, legal rating systems were provided by competitors, namely peers, rating each other or by comments from the general public; both systems can be biased and emotional. LAWCHEK™ utilizes a more effective way to provide an accurate portrayal of legal professionals. This improved rating system helps the general public quickly determine if a legal professional is best suited for their particular case and is providing the best possible security for there information.
LAWCHEK™ Ratings System
LAWCHEK™ utilizes a legal ratings system that evaluates legal professionals listed on the site for their Internet savvy and technical security as it pertains to the quality of service they offer clients. Each requirement that is met merits the law firm one check mark within their listing. A total of five check marks is possible. If a legal organization does not possess any check marks, they may have chosen not to participate in the ratings system, or they may not have been rated yet. A star within any listing denotes membership, and a blue ribbon within any listing denotes honorary membership. A video camera denotes the legal organization utilizes and/or offers videoconferencing, a service LAWCHEK™'s parent company, enlighten technologies incorporated™, offers.
LAWCHEK™ Ratings System

The ratings system is based upon the following criteria:
Does your firm possess a web presence? This is defined as any form of website promotion, such as a website.
Does your firm have a physical address and has this firm been at this location for more than a year?
Has your firm been in practice, and using computers, for five years or longer?
Has your firm, or any member, received an Internet or technological award or been highlighted in any major publication? Or, has your firm participated in 25 trials or more?
Does your firm utilize a secure client portal, secure backups, secure client file management, and secure communications to keep your client information protected and confidential?
Upon review, if your legal organization qualifies in at least one area, you will receive a check mark. If your law firm meets more than one of the listed criteria, you will receive check marks for each area met. For a key to the ratings system, please see the Legend below.
The primary considerations in selecting a legal professional should be whether the client feels comfortable with the professional selected and if he is confident that the professional is competent in his field of expertise. Much depends upon an individual's judgment, and many times a legal professional is hired on the basis of referrals from other individuals who have for one reason or another experienced professional relationship as a result of work performed.
| | |
| --- | --- |
| | ACTIVE |
| | USES MINIMAL TECHNOLOGY |
| | USES BASIC TECHNOLOGY |
| | USES ABOVE AVERAGE TECHNOLOGY |
| | USES ADVANCED TECHNOLOGY |
| | OFFERS FREE INITIAL CONSULTATION |
| | MEMBERSHIP |
| | HONORARY MEMBERSHIP |
| | USES OR OFFERS VIDEOCONFERENCING |
Additionally, there are certain services that will rank legal professionals. However, a great deal of caution should be used in viewing most of these publications since such ratings may be politically motivated. Some services look at the number of years an legal professional has practiced. Sometimes special ratings are given to Lawyers who are members of large firms. Therefore, if an legal professional is not rated as highly by some of these various services, it does not necessarily mean that the legal professional is not extremely skilled or well qualified for that particular purpose. These sources of legal professional ranking may be helpful, but should be a secondary matter in the process of selection.
If you would like additional pointers for selecting the attorney that is right for you, please see our "How to select a lawyer" guide.
If your legal organization needs assistance regarding the ratings system in determining an accurate rating for your business, we would be more than happy to advise you. Please call our toll-free number at (800) 529-5121.
LAWCHEK™
Security Award -
5 Checkmarks
LAWCHEK™
Excellence In Service -
4 Checkmarks
LAWCHEK™ is providing seven of our top requested legal form books for free! We hope to assist the general public to learn more about their legal issues so that they are better prepared to discuss their situation with an attorney. LAWCHEK™ has over 20,000 legal forms and sample documents in its' database, which includes legal forms and sample forms with support information for every state. Currently we provide free legal form books and sample legal forms on the following subjects: Making a Will, Divorce, Contracts, Real Estate, Incorporation, Intellectual Property, and Name Change.
Please feel free to use these legal form books for personal and educational purposes. They are intended to be used in conjunction with a licensed attorney. Click here to locate a qualified licensed attorney in your state.
Our partner site LawsOnline™ offers several original articles covering legal, political, and personal interests. Check out our latest article on video and document share security.
The Importance of Security for Video and Document Share
Every manner of communication from the law office to a client is expected and understood to be strictly confidential. Naturally, a major goal of every lawyer is to establish a lasting relationship with the client through confidential and timely responses to the client's needs and requests. Therefore, an "on-going" and "ever-ready" means of secure communication serves to enhance the attorney-client relationship. By the law office taking measures to assure that all disclosures, documents, and discussions are uncompromised and secure, the lawyer conveys to the client the fact that the client's privacy is as important to the lawyer as it is to the client. Read Full Article
Interested in the history of the Second Amendment? Click below for a series of articles.
Or check out other articles in our archive:
For a complete list of current articles, please click here.